Ongoing practice/Annual Workshop info
In Calgary, in person
Weekly Nordic Folkdance Society practice sessions began September 15 at the Scandinavian Centre, 739 20 Ave. N.W. The cost is $50 for the fall season or $5/week drop-in fee. Come see us dance at 4 p.m. and 6:15 p.m. on Dec. 2nd and 9th at the European Christmas Village Market.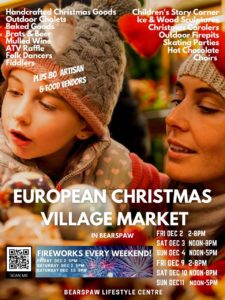 Bearspaw Lifestyle Centre, turn south from Highway 1A at Bearspaw Road
Address: 253220 Bearspaw Road        Map Xmas Market
Inquiries about Nordic Folkdance activities may be addressed to the members of the organizing committee.
*************************
---
Virtual Sessions
Second Wednesday of each month (next one is Nov. 16), zoom sessions with the Scandinavian Dancers of Vancouver. Sign up via their website, www.vcn.bc.ca/scandi
Skandia Folkdance Society, first and third Fridays of each month. For details on getting a Zoom link, see
http://skandia-folkdance.org/activities.html